Aficionados of 'the first music of the Caribbean' have been heading to the London Calypso Tent every August since 1992. So what were we doing at the Tabernacle in Powis Square in March? This was actually the end of the 2021 season running a little late, thanks to Covid and some funding hiccups (covered recently by Soca News).
Happily, the weather played along, and on both days – Thursday 24 and Saturday 26 March – the sun and cloudless blue sky did their best to convince us it really was August.
So too did the ACASA All-Stars Band, which was in cracking form. It was hard to believe that it had been more than two years since we'd been able to enjoy live these talented musicians. Then there were the Divettes, in great voice as always, who showcased their beautiful harmonies before MC SuperTrini Vibes (Kerryn Seale) got the main show underway.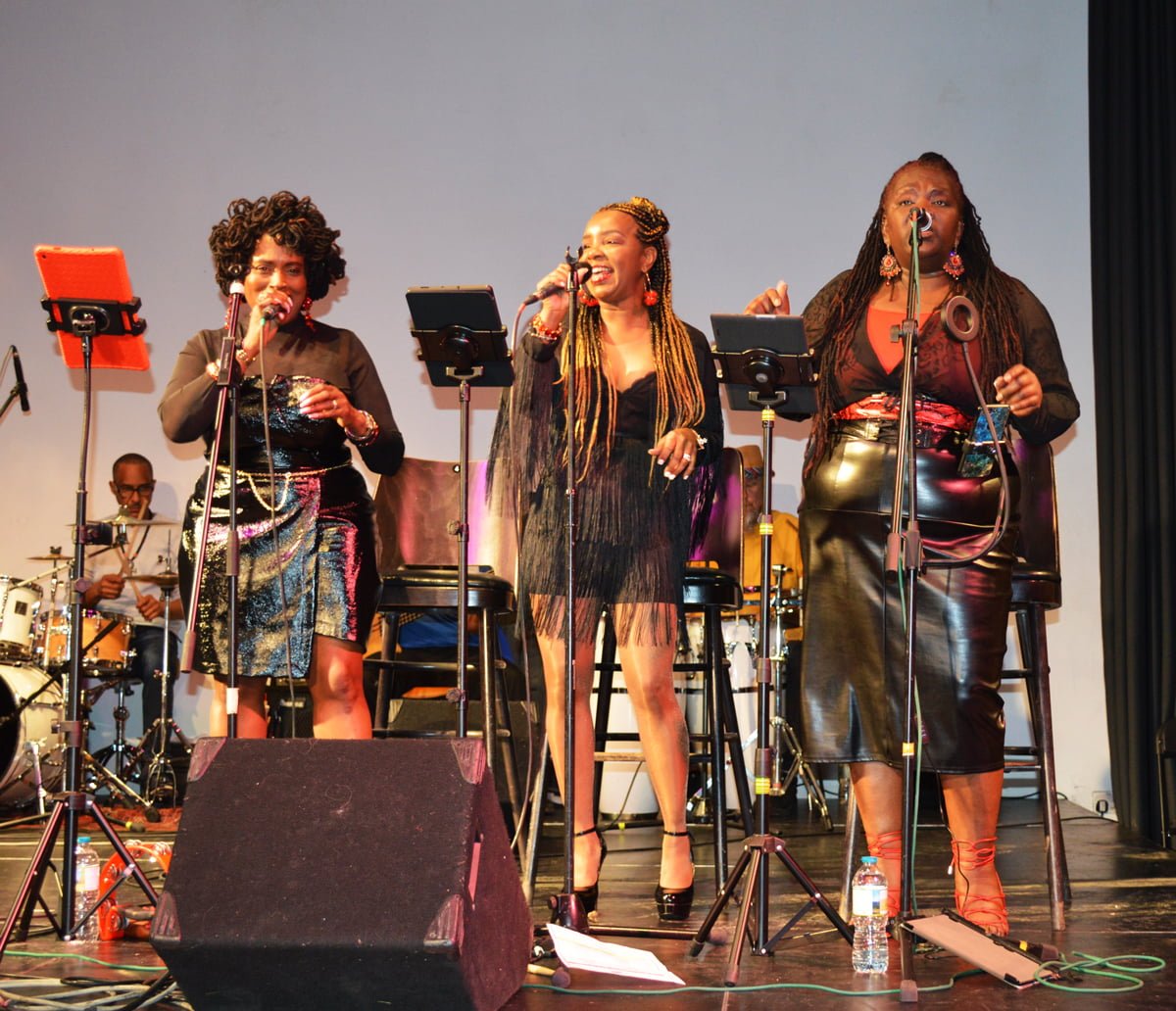 Because this was a show rather than a competition, we heard a mix of old and new songs. And what a variety they were – up-tempo party soca, old-school soca, passionate calypso, humorous calypso and traditional calypso. We were taken on a journey of (re)discovery, from Muffinman's summery feelgood factor Smashin' ("Under the Westway, that's the best way"), Brown Sugar's protest against received wisdom on Covid 4 Times Likely and classic Cloak style in Don't Run Down My Brother Calypsonians, to Musicman's catchy Me Know, Rev B's dignified Raise Yuh Head and G-String's old yet up-to-the-minute topical High Blood Pressure (stressed out by non-stop media coverage of "war and rumours of war…").

The London Calypso Tent – which includes the Calypso Monarch and Groovy Soca Monarch competitions – is organised by ACASA, the Association of Calypsonians and Soca Artistes. The last part of the organisation's name also provided us with lots of variety. Batch reprised his popular Hold On Tight and gave some instruction to our MC, De Admiral took us straight back to soca's golden age with You Give It To Somebody, contrasting with Ms Desire's energy-filled performance of Doing Me. The strong, punchy opening to Helena B's road march-ready Feel It is a wake-up call to DJs to play this at Notting Hill 2022, while DeeVine's Can't Wuk Me has what it takes to get a fete on the move, and of course SunDivas put their all into their ever-popular Unstoppable.
However, there was one calypso that conveyed a message so relevant, poignant and powerful that it prompted sustained applause. Tobago Crusoe's Nobody Wins a War stole the show, proving that a well-conceived calypso is truly timeless. A few hours before, your reviewer had been reporting on the Ukraine solidarity march and rally in Trafalgar Square, where John Lennon's 1969 hippy anthem Give Peace a Chance was played. Admirable sentiments, of course, but, of the two songs, Crusoe's is by far the most impressive. In these troubled times, it surely deserves daily national airplay, not to mention translation into Russian and Ukrainian.*

Crusoe ended his session with a wickedly sharp take on Prince Andrew's dubious antics ("The Grand Old Duke of York/He loved plenty woman"), skewering his subject more successfully in a few humorous lines than many outraged commentators have done in pages of newsprint.

The evening closed with a rendition of Happy Birthday for bandleader Felix, as most of the calypsonians joined him on stage for a final fling. The show provided ample proof that UK calypso and soca have survived the pandemic in fine voice. Congratulations to ACASA chair Vincent John and his team, the band, the artistes, the Divettes and the Tabernacle for overcoming all the challenges to ensure that the 2022 season now start…

There's a curious Trivial Pursuit-style connection between Tobago Crusoe, the President of Ukraine and Notting Hill. Crusoe sang classic calypso on the two Paddington Bear films; President Zelensky voiced the part of Paddington for the Ukrainian-language versions of the films; and Peruvian immigrant Paddington was, of course, a resident of the Royal Borough, ostensibly living next door to Paddington Arts anddacross the road from the Yaa Centre. There's surely a calypso in that – Give Marmalade a Chance, perhaps?