"Trini Hill" murmured my neighbour as soon as the two old men set up their folding chairs and started bickering over the pricing strategy for their whistles.
Yasmin Joseph's wonderful play J'Ouvert, at Theatre503 in Battersea, offers many such moments of recognition to anyone who's ever played mas at Notting Hill, felt the frustration of a queue for overpriced, gentrified food, or encountered a swagger of youths trying to play the big man.
The language, the music and the movement all feel right – as they must in front of an audience that knows exactly where they are coming from. The writing is invested with the passion of someone who knows how soca can lift your feet to fly over the hard, unforgiving streets of west London.
But it's more than just a play about the play of mas. Like Carnival itself, it's deeper, sometimes darker, and infinitely more fascinating than just the chance to "mash up di road". Though the G-word is never uttered, the events of 14 June 2017 that are forever seared into the fabric of North Kensington are woven movingly into the fabric of this play too.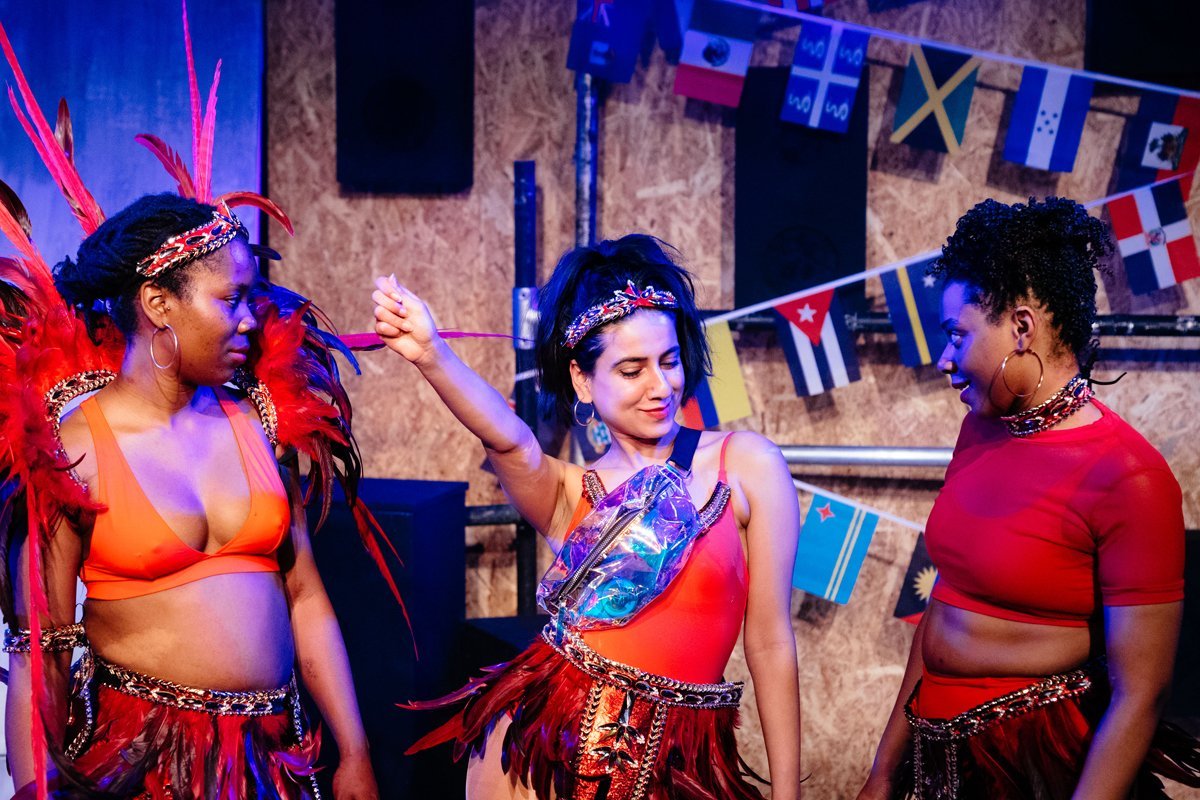 The three main characters feel the weight – but also the support – of history and of those who came before. They need all the strength the spirits can give them when a chance encounter turns from fun, to intrusive, then seriously threatening. J'Ouvert, though, is also very funny (and eminently quotable – you can buy the text at the theatre); it's rare to see and hear a theatre audience so totally, enthusiastically engaged with the action on stage.
This being a play about Carnival, director (Rebekah Murrell) and producer (Tobi Kyeremateng) should have expected the unexpected, but it must have been a harsh blow when two members of the cast had to pull out shortly before opening night. But that indomitable Carnival spirit prevailed and even with one actor having to be 'on book', the cast acquitted themselves superbly. Sapphire Joy plays the passionate and deliciously acid-tongued Jade, Annice Boparai is well-meaning but patronising Nisha, and Sharla Smith is would-be Carnival Queen Nadine.
As if re-creating the tight-packed, beer-slopping, elbowing crowds of Carnival wasn't enough of a challenge for just three actors, they also take on the roles of other characters. As well as the two old-timers, Nadine and Jade switch into two drunken white lads, 'Rap on the Go's' cheesy reporter and her reluctant interviewee, and most impressively of all the sinister, and all-too-believable, Block Face and Mini-me. Credit should also go to sound designer DJ Mwen for weaving that irresistible soca soundtrack into the play and to movement director Shelley Maxwell.
In the final moments, Nadine says: "365 days circling the sun. And you'll find me here again." Let's hope so.
J'Ouvert runs until Sat 22 June at Theatre503, above The Latchmere, Battersea Park Road, SW11 3BW; 7.30pm Tue‑Sat, also 3pm Sat; tickets £10‑18, from theatre503.com or call 020 7978 7040. Short walk (or buses 49, 319, 344, 345) from Clapham Junction mainline station.