Yes, Chocolate! Another year, another launch – and this was one that proved that, 10 years on, this band remains one of the kings of the road at Notting Hill Carnival (NHC). On Saturday 16 March, DJ Mike Forbes and his team revealed that for NHC 2019 there will be seven costumed sections on the road with Chocolate Nation Mas. This year's theme is X-Treme, which gives an idea about where they hope to take masqueraders as they celebrate this special milestone.
What drives Chocolate is, in the words of its motto, 'Our Love of Soca and Carnival'. It's a love shared by the masqueraders who, as Mike Forbes and one of the designers warmly announced, keep them going year after year.
For Carnival Sunday there's the popular signature T-shirt package, of white T-shirt with pink or brown writing. This year there's also a VIP T-shirt section, which is a red leotard or T-shirt with black writing. The packages include two trucks, mobile toilet, band security, the usual container for chocolate and refreshments, and extra goodies in the bag.
Carnival Monday will see masqueraders dazzled by bling, as all seven sections are heavy on beads, diamanté and glitter – the diamond sky is definitely the limit this year. We now look at each section in turn (in no particular order).
Wassiville has been designed by Sophia, who has been in the business for more than 10 years, she told me backstage. The theme of this all-female section is Warrior. The 'Ahosi' women are beautiful, strong and fight with their hearts. They are the fiercest female warriors ever to roam the earth, a symbol of victory and power. Sophia has opted for a beautiful blend of golds, pinks and greens denoting that soft yet fierce and earthy character.
Caribbean Sessions is portraying Passion, with white writing on a pink T-shirt. The section's costumes are vibrant pink, yellow and feathered with bling galore – very bright and beautiful.
Infinite Mas is promoting love with Mi Amour. In this their fifth year on the road they believe "only true masqueraders understand the love of Carnival that runs through our veins; it's pure and never-ending". Designers Jules and Desire have four sections for women and one for men with a back-line section called Passion. Desire told me backstage that "as we're not sure if it's gonna be sunny or not for Carnival, I've chosen pink and yellow to keep us bright on the road". The predominately pink look is absolutely striking and speaks volumes.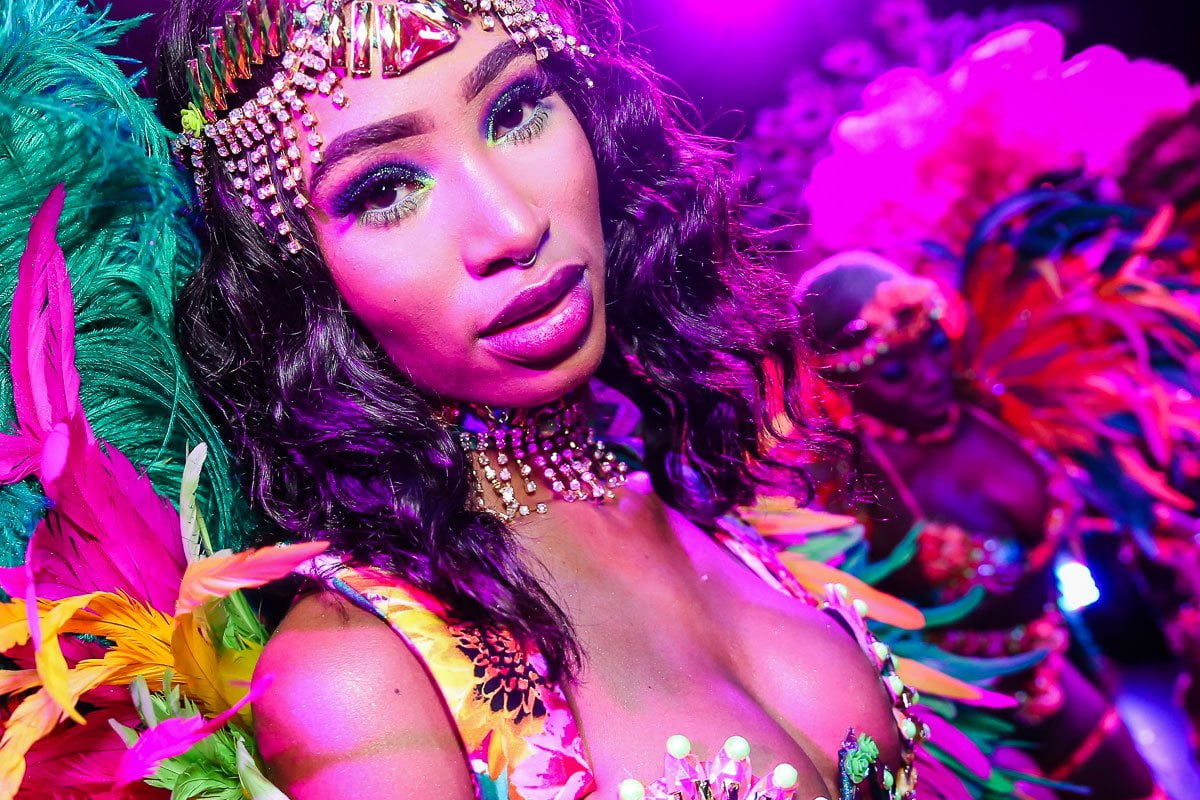 Kyoto, the capital of peace and tranquillity, is the chosen theme of Mas With a Difference. The garden is a theme of pure beauty, so prepare to be captivated by leaves, flowers and soil. Designer Flora has intricately combined fuchsia, rich orange, electric and regal greens and gold to create the most stunning feathered wings and back-piece, not forgetting that all-important bling to finish off the amazing look.
Trinity Design Collective, which is also celebrating 10 years of mas, present Mantra, expressing "love for soca, love for our culture". This costume has an amazing peacock-like feathered headpiece with a striking layout. The colour mix of browns, turquoise and yellow bling and feathers is mesmerising.
Lovena, who has been designing for four years, presents Calypso, the rhythm of Carnival, the expression of freedom. There will be a back-, mid- and front-line and men's section. Turquoise, pink and yellow feathers dominate the costume with clusters of bling here and there; it's an exquisite and captivating look.
To say the DJs had the crowd charged up is an understatement. With so many fresh from Trinidad Carnival, they came ready to party hard. All sorts of stage paraphernalia were used as wining props. It was pure vibes all night thanks to Danny D and DJ C Jay, not forgetting hosts Giselle and Mike Forbes.