The Daily Mail billed it as a "Crunch meeting on Notting Hill Carnival's future". It was no such thing, of course. The meeting held in a packed and rather warm Tabernacle was passionate and often noisy, but for all that it was merely the residents' meeting, which has been held annually for decades. It's a kind of 'how was it for you?' washup with local people, many of whom are also carnival participants – masqueraders, steelpan players, stallholders, community activists etc.
Representatives of the police, the organising body and Westminster and Kensington & Chelsea councils set themselves up as Aunt Sallys on the high table and for the next two hours the audience throw rotten tomatoes at them – fortunately just verbal ones. It's one of those quaint English spectacles, like the bog snorkelling championships that take place each year around carnival time, that have no discernible reason and no obvious outcome.
Notting Hill Carnival Limited chair Ian Comfort denied a resident's accusation that the meeting was "clearly a tickbox exercise" and NHCL CEO Matthew Phillip insisted that his door was always open to people with questions (a remark greeted with snorts of disbelief). Nevertheless, this was a ritual that felt both cathartic and frustrating in equal measure – probably much like bog snorkelling.
Rogue Mail
There were loud complaints about the lack of advance notice of the meeting, and indeed Soca News only found out about it via an article in the MailOnline. In typical MO fashion it aimed to scare readers witless with a splatter of statistics and horror pictures from the carnival while ignoring the inconvenient truth that all but a tiny, unrepresentative fraction of people go to carnival simply to eat, drink, dance and enjoy themselves. That, though, fails to satisfy the Mail's craving for advertising-revenue-generating clicks. And the easiest way to do that is by amplifying crimes into a full-blown moral panic.
The MO article stated: "Research by MailOnline today established that there have been 5,319 arrests made over the past 20 years at the carnival – with this year's total of 308 up by 47 per cent on the 209 at last year's event, which also saw the first carnival murder since 2004.
"Now, there are growing calls for the annual party to be moved to another location such as nearby Hyde Park, with Policing Minister Chris Philp revealing he could be open to seeing it relocated if this was recommended by the Metropolitan Police."
Rather more relevant research by Soca News today revealed that while attendance at Notting Hill Carnival is over a million, the capacity of Hyde Park is just 65,000. The Royal Parks told Soca News today: "We have not been formally approached to host the Notting Hill Carnival. Any major events held in the parks must be in line with our Major Events Strategy, and we are at capacity for major events in Hyde Park."
The Mail, Conservative mayoral candidate Susan Hall, Chris Philp and sundry other commentators and politicians need to accept that carnival in Hyde Park is a mirage. Ian Comfort stated very firmly, "Tonight's discussion isn't about whether Carnival is going to take place or not – it is going to take place.".
The significance of this emerged in the meeting, when some attendees pointed to a young blonde-haired man and denounced him as a Daily Mail reporter – the equivalent of a satanist being unveiled in an evangelical meeting. He slunk out shortly afterwards. A Colombian woman, reading from a prepared speech, furiously insisted: "The event has become synonymous with crime and sexual assault. Notting Hill Carnival has descended into chaos." At this, the meeting itself nearly descended into chaos. Matthew Phillip stopped her from going further, saying that she was a plant acting for one of the newspapers. After being accused – by Cecil Gutzmore, no less – of demonstrating "the racist arrogance of almost-white Latinos", Miss Colombia steamed out. A man in a plum-coloured T-shirt was also brave – or foolhardy – enough to say that it was time "to consider whether we should move Carnival". Cue more uproar. "The most ridiculous thing I've ever heard," fumed Phillip. And plum-man also exited stage left.
Community cohesion
Despite the many and various complaints at the way the carnival was run, who it was really controlled by, the amount of money generated and returned to the community, the policing, security and stewarding of carnival and lack of residents' passes, inadequate toilet provision, the amount of anti-social behaviour in people's doorways and the incidence of graffiti – despite all this, it was clear that this is a community that cares passionately about its carnival. Purveyors of disinformation, division and disrespect were very much not wanted. It's a lesson the Daily Mail and its online offshoot should take time out to learn. But there are fewer clicks in balanced, ethical reporting…
Several speakers wanted the community to be invited to play a more active role in Notting Hill Carnival. One said that he was involved in initiatives to train local people in security (as opposed to stewarding); potentially they could assist the police and engage more effectively with the youths. Another said his organisation could train members of the community in conflict resolution and there were doctors who could show people how to give first aid to someone who has been stabbed.
A resident who runs a community centre suggested that toilets in similar centres could supplement the council's eternally inadequate supply of facilities. The RBKC representative said that he'd consider the idea, and also explained that compost toilets were used this year because trucks couldn't get in to the zone to empty chemical toilets. He pointed out that the carnival "footprint is getting bigger and bigger". This is half-true. The event is indeed affecting an ever-wider area, but councils and police have been reluctant to recognise this by expanding the footprint – a point made by Cecil Gutzmore – with the result that the official footprint is unchanged from when attendance was half its present level.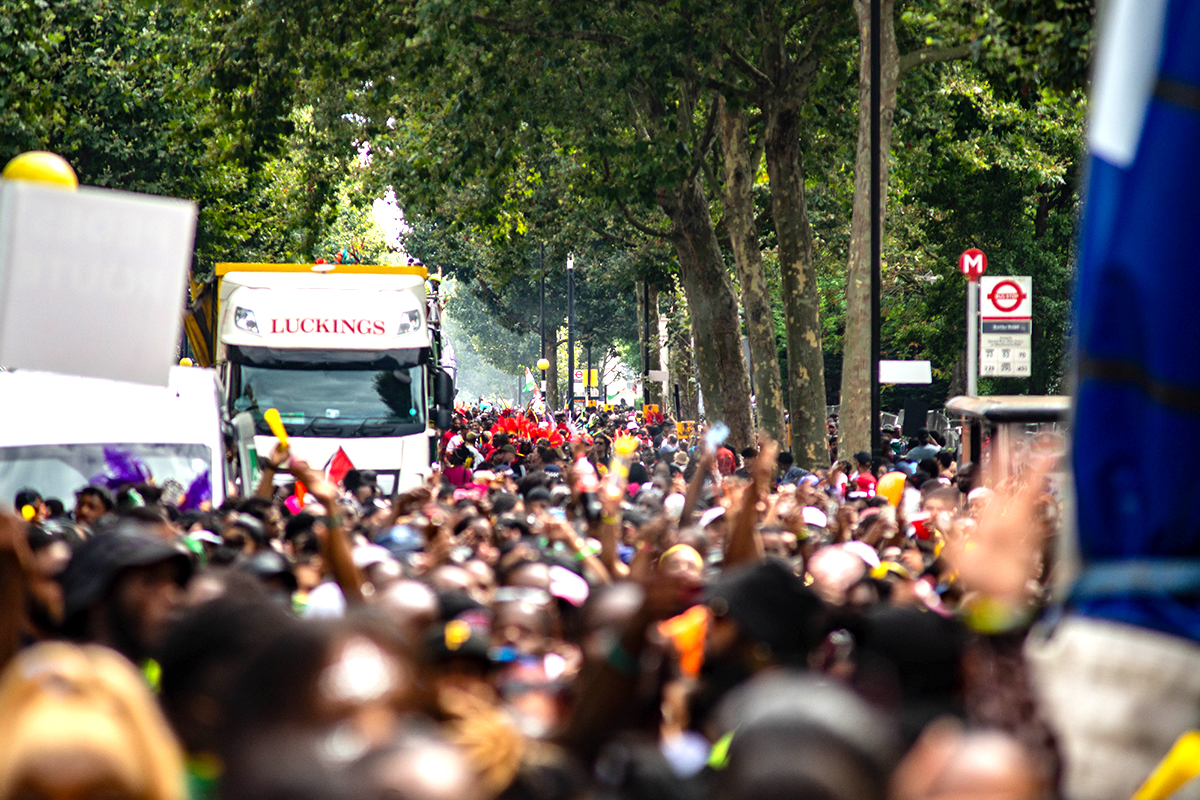 Route of the problem
Access to the carnival route was a matter that exercised former NHC chair Claire Holder, who felt that congestion was caused because the number of entry points had been reduced. Not true, said her successor in the post, Matthew Phillip; they haven't changed in 30 years, he said. She was also concerned about overcrowding and feared that the police and councils were reinventing the wheel, ignoring earlier studies into the route, such as the 2002 report by Intelligent Space for the GLA. She concluded: "There's an arrogance by the authorities, who are not listening." NHC Gold Commander Deputy Assistant Commissioner Ade Adelekan insisted his team had looked at reports from previous years and asked themselves, "Have we implemented all these recommendations?"
One hoary old post-NHC chestnut is the problem of hordes of people pouring down Great Western Road between mas bands and the judging point (JP). A masquerader asked: "Is anything going to be done to stop this?" Phillip responded, wearily: "This is déjà vu. The judging point is not a sterile zone because it's very dangerous." He maintained that well-managed bands didn't have the problem; it mainly affected bands that were too big and couldn't control their space effectively.
In some cases, that may be true, but at times crowds – not band followers – overwhelmed bands' security and surged past the group and the truck. Soca News's reporter witnessed an example of this in Great Western Road, where Jamaican Twist was forced to stop just before the JP for more than 10 minutes until the surge had passed. The resulting crush was undoubtedly dangerous – people had to jump over barriers to escape – but trying to hold back the pressure might have been more dangerous still. It's hardly fair to blame a band for being steamrollered by an uncontrollable force behind them – that is presumably what stewards are meant to control.
Stewarding is a perennial source of complaint. This year, one resident said, stewarding contractor McKenzie Arnold subcontracted some of the work to stewards who were on duty for 14 hours and not even provided with water. Another noted that some areas weren't manned at all so there was no help when it was needed, leading to people being knocked down. The RBKC representative admitted: "It didn't go smoothly on the Sunday; they didn't deliver on the spec."
Policing
Sadly, one lady told the meeting: "My son has been a victim of carnival stabbing." He was attacked by a group of 20 in masks. To add insult to injury (literally), the victim was then restrained by police, who, she said, refused him protection. As a result, he had to walk home unaccompanied, despite his valid fear of further attack from the same gang. "There's this perception that anyone who's stabbed is up to no good" – which she insisted was not the case for her son. As one resident noted, though, "Violence is not a carnival problem; it's a London problem." (Another inconvenient truth for media that operate at the rabid end of the reporting spectrum.)
When asked what the police were doing to keep the public safe at NHC, Chief Superintendent Claire Smart mentioned proactive measures such as restriction orders on likely offenders, pre-emptive arrests and searches, plus the deployment of 'knife arches' – although the ones SN walked through in Westbourne Grove at midday on Monday were unmanned, so of no practical value.
Also of doubtful value, according to panman and calypsonian André Rostant, are the anti-terrorist gates ('hostile intervention barriers') at many road entrances to Notting Hill Carnival, which served only to hold up legitimate bands and to slow the flow of people trying to leave the carnival zone. "We're just following orders" was the police response to the band's protests, despite its members wearing sombreros and carrying pans round their necks – hardly the likely attire of terrorists!
We learnt from DAC Adelekan that 15,000 police were deployed over the carnival period (he didn't specify whether these were police shifts or 15,000 individual police officers). How much does all this policing cost, asked one resident. Adelekan said they would produce the figures later.
Carnival balance sheet
Money is always a thorny issue, and the cost of stall pitches generated some ire. Paul Felix was shocked that a stall cost £1,300 – where does all this money go? RBKC replied that it charges £49 per square metre, which includes water supply, waste clearance and food hygiene training. In total, the council makes £300,000 from carnival street trading fees, but spends £1 million a year on the overall event, including collecting 300 tonnes of rubbish.
Here a voice called out: "What about the wider income generation created by carnival?" The 'top table' showed an odd reluctance to tackle this big issue. There was a report "four or five years ago", RBKC said vaguely. Matthew Phillip was more precise, recalling the £93 million figure cited in the London Development Agency-sponsored report of 2002, but didn't seem to give it much credence. Assuming the parameters on which that report was based remain roughly the same, inflation will have taken that figure to £163 million today (using the Bank of England's inflation calculator). Given that the LDA report is possibly the most important study ever conducted into Notting Hill Carnival, Phillips's casual dismissal of its value was surprising.
Sustainability
John Armah called for greater transparency, including an accurate balance sheet on costs and sustainability – "We need to be doing a hell of a lot more recycling". The point was taken up by another speaker who also felt that a lot more could be done to improve NHC's green credentials. RBKC – which performs poorly overall on recycling compared with other London boroughs – said it recycles 30% of the waste collected.
There was some criticism of the way the meeting had been organised, with accusations that it had not been properly advertised, there was no agenda and no one was taking notes, which meant there would be no way of checking whether points raised had been acted upon. It was suggested that NHCL should return to the old practice of holding a public meeting quarterly, which would avoid issues either being forgotten or being allowed to build up into major sources of friction or misunderstanding. One resident suggested there should be a resident's carnival committee that could set an agenda for future meetings.
Positive vibes
Although criticism – some of it decidedly heated – dominated the evening, there were a few reminders of the positives. One resident felt that the stats were largely positive: 3,000 full-time jobs created, zero fatalities and only 308 arrests in an event of up to 2 million people. "I saw police making an effort to be more approachable," he added. One simply said: "What a beautiful carnival" and a stallholder declared: "From my point of view, Carnival saves lives."
He's right, of course. There is so much good that comes out of Carnival: it teaches, inspires, stimulates creativity, celebrates freedom, gives its participants respect and self-respect, and offers hope and joy to those who most need them. For some it provides a living, for others a reason to live.
It's not perfect, because Notting Hill Carnival is a work in progress. It's misunderstood, sometimes wilfully so, and too often it's the object of disinformation, prejudice and naked racism. But it's beautiful… and it's ours.
Note: This report has been prepared from notes taken at the meeting and every effort has been taken to ensure that the report reflects what was discussed. Please advise us of any factual errors, so that these may be corrected email info@socanews.com.